Chioggia, with the seaside destinations of Sottomarina Lido and Isola Verde, is located on a privileged stretch of coastline to enjoy the benefits of the sun, the sea, the sand, and the sea breeze: the four elements of nature that par excellence regenerate body and mind. Whether for a day trip, a weekend getaway or for a longer period, the visitor is never disappointed because, all year round, this area can offer physical and psychophysical well-being.
Sottomarina, a lively seaside town pulsating with life by day and by night, with its wide beach equipped with every amenity, is ideal for spending long days at the seaside. Isola Verde, more secluded and quieter, is a more restrained beach, lined with dunes and dense vegetation, appreciated by those who want to relax in an oasis of tranquillity.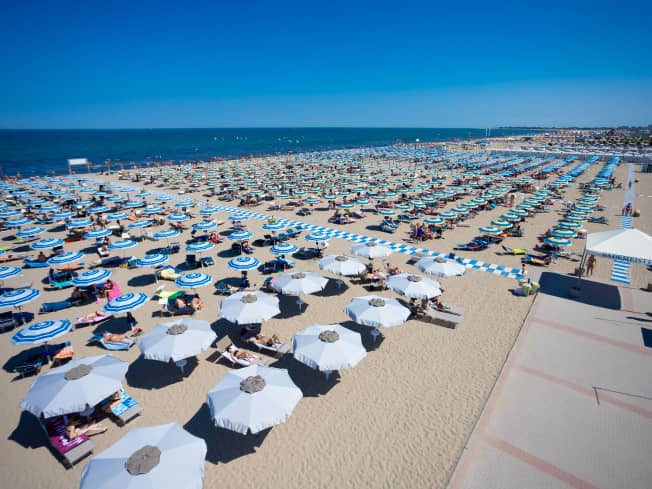 Over 10 km of Beach
---
A coastline of fine, golden sand, lapped by the warm waters of the Adriatic Sea, winding between the breakwater of Sottomarina and the mouth of the Adige River. From the breakwater of the port of Sottomarina, whose promenade allows a dive into the sea amidst the boats returning to the lagoon surrounded by the screeching of seagulls, the shoreline winds for 8 kilometres to the mouth of the river Brenta, with its panoramic breakwater. From here the beach resumes over the river and continues for another 3 kilometres in the Isola Verde area up to the mouth of the Adige River.
The Breeze and the Sand
---
A precious sand, made up of the slow depositing of dolomitic rocks and quartz crystals, iron minerals and micaceous elements with golden hues, forms the deep beach of the Sottomarina coastline, on which the sea radiates a healthy iodine-rich breeze. These elements allow for a quick and intense tan and a healthiness that strengthens the body and invigorates the spirit.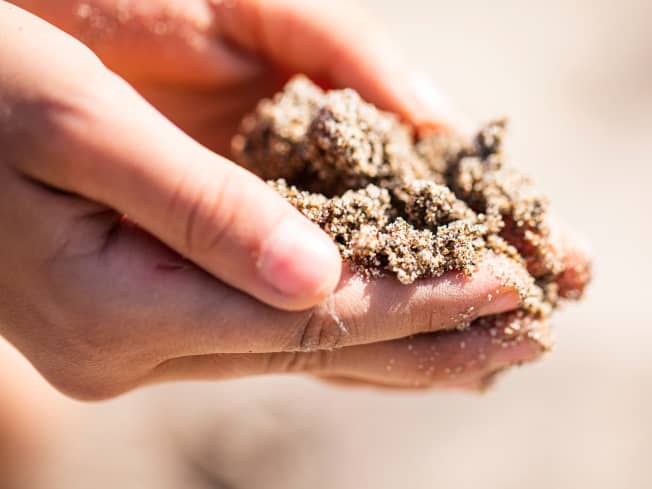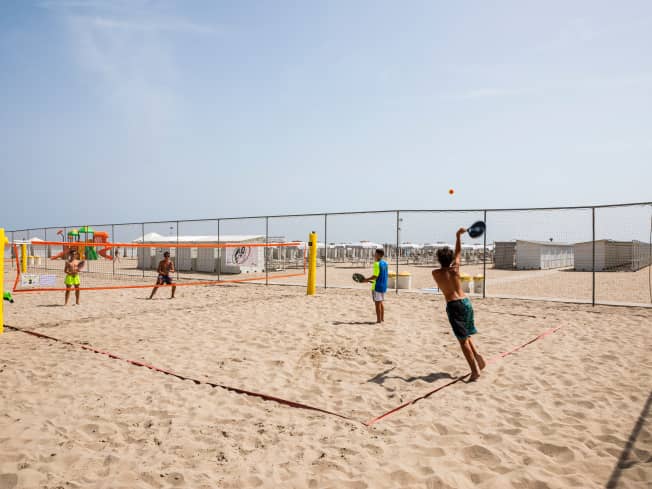 Beach with Facilities
---
A succession of well-equipped bathing establishments, clean and well-maintained public beaches, large play areas for children but also for adults, functional spaces for four-legged friends. From morning to evening, the shoreline offers activities for every taste: you can take long walks along the shoreline, enjoy group and water sports, have lunch by the sea or sip an aperitif in a typical kiosk, admire the beauty of the sunset from the shore.
Beach and Territory
---
For those who wish to alternate beach life with excursions in the area, the hinterland satisfies every need with natural and cultural itineraries: a visit to the historic centres of Sottomarina and Chioggia; a sailing tour to discover the lagoon and its islands; numerous routes to be taken on foot or by bicycle on the mainland along rivers, embankments, and canals, in the realm of the reclaimed land. The possibilities for recreation and hiking are truly endless.